Online Auction Summary
Online Auction Summary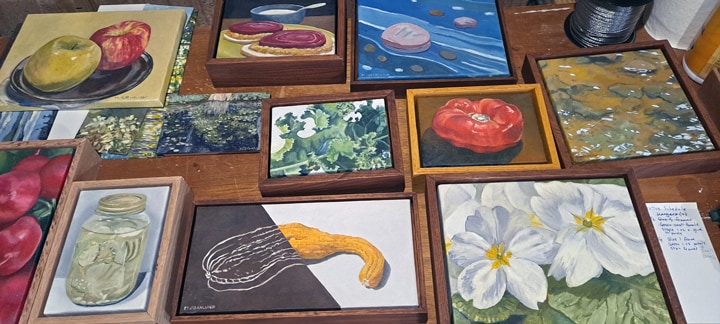 I held a small painting online auction for the month of April. It was really fun to do! I made a new painting available for bidding every weekday - I took the weekends off. Twenty paintings, all 12" or smaller, were offered and fifteen sold. I didn't see many bidding wars, but there were a few competing bids on some. Most of these works had been sitting around my studio for a few years and I finally framed them, using the ends of frames from larger pieces, and put them up to bid at very reasonable prices.
Part of this project was to see how the whole process worked. I had previously done an online auction with my friend and painter Gregory Graham. But I wanted to see how this worked doing it by myself. There was certainly some work involved, but it was rather simple once the art was photographed. It was enough work that I couldn't see doing this all the time. I have a good friend from graduate school, Duane Kaiser, who started the A Painting A Day trend and posted a new painting to bid on every day for four years straight. That is an accomplishment I am not capable of.
But, I enjoyed this enough that I will look to do it again, maybe in October. The style will be a little more consistent and the subject matter will mostly be landscapes and flowers. Stay tuned for more info.