Is There Something Wrong with the Minnesota State Fair Art Exhibit?
I hear it every year. "Those jurors are so random. How did these pieces get into the exhibit?"" "The exhibit isn't as good as last year."
I braced myself for these comments after jurying the Oil/Acrylic/Mixed Media category for the Minnesota State Fair this year. The exhibit is the most seen exhibit in the state with hundreds of thousands of people filing into the building to see the current state of fine art in Minnesota during the twelve day run of the fair.
The exhibit is comprised of original artwork submitted by anyone who lives in the state of Minnesota. The artwork cannot have been exhibited in a previous state fair exhibit and can be no more than two years old. Those are the only rules. There are eight categories in which to enter. From largest to smallest, they are: Photography, Oil/Acrylic/Mixed Media, Watercolor, Drawings/Pastels, Sculpture, Textiles/Fiber, Ceramics/Glass, and Prints. There is, generally, one juror for each category. This year, 2022, there was a total of 2,207 artworks submitted in the eight categories, with 324 chosen to be exhibited.
As juror, I was tasked with narrowing an entry of 661 artworks down to 97 to be exhibited. That sounds like a lot of work… and it is. The first review is digital. As a juror, you are given a link to the entries in your category. Each entry is simply an image of the work with information: title, media, and size. There is no indication as to who the artist is but, of course, many works are signed.
Under each image is a 10 point scale that goes from Rejected to Accepted. 0 is Rejected and 10 is Accepted. Any rating you give the artwork is saved. Once you have rated the artworks, you can look up the artworks according to the score you have given them.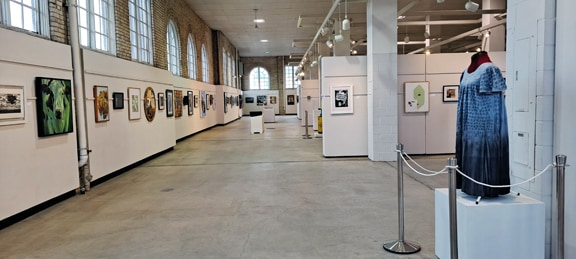 After carefully working my way through the 661 entries the first time, I went back and looked at all of the artworks rated 9's and 8's. I did not automatically accept or reject any piece the first time through. I was happy with all of the 8's and 9's which amounted to 65 artworks. This meant I had to accept 32 more pieces from the 596 remaining. I made my way through the 7's and 6's and had more than enough to reach my goal.
I reviewed the artworks rated 5 just to make sure I hadn't missed anything that should have been rated higher. I did end up adding two or three from this rating. When I had the 97 artworks for the exhibit identified, I rated them as "Accepted" and submitted my results. Then, just before the fair started, the jurors were asked to come see the exhibit in person and decide who will win the awards. In my category I had to award a 1st, 2nd, 3rd and 4th Place as well as five Honorable Mentions.
I have to say that the whole process is pretty straight forward and it is well run by Jim Clark and his crew. In a rather short amount of time they process all 2200+ entries, set them up for the jurors to rate, contact the artists who will be in the show, receive the artworks, hang and display 324 artworks, run the show during the ten days of the fair, and then make sure the artists pick up their work. They also deal with sales and are a general fount of information about the exhibit, in general, and about the current show, specifically. And there are daily demonstrations by artists that they coordinate. It is an amazing undertaking and I would say that the true star of the show is not the award winning artists but Jim and his crew.
If the process is straight forward and it is set up for the jurors to, rather easily, handle the amount of works submitted, why do people complain about the exhibit?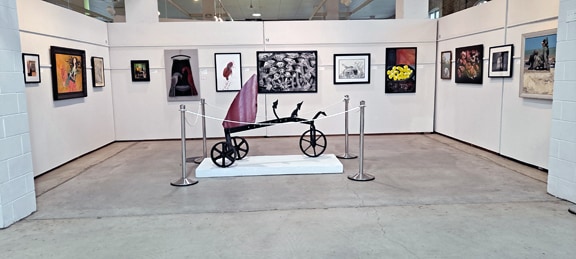 I am an artist who has submitted many entries to the exhibit over the years. I have been accepted and rejected. My first ever art sale to someone other than a family member was a self-portrait drawing sold at the fair. In 1990, I won 1st Place in Drawing. In 2019, I won 1st Place in the category I juried this year: Oil/Acrylic/Mixed Media. And now that I have juried the art, I understand the complaints better.
The Judging is so random
The first complaint is that the jurying is random - there is no consistency, i.e. the juror is nuts. This happens when people have work (or an artist friend) that they like that didn't get in the exhibit or because there is a wide range of work that is outside their definition of fine art.
While reviewing the 661 artworks I was most struck by the sheer randomness of work entered. Granted, I think I was given the category with the broadest range of work. I literally was trying to compare minimal abstract paintings to mixed media constructions to comic portraits to photo-realistic oil paintings to magazine collages to religious icons to celebrity portraits to paintings of cows, pets and kids. How do you even start to compare them all? Do I just decide that I don't like abstractions and leave those out? Celebrity paintings mystify me, I don't understand the appeal. Yet, one large painting of a celebrity was well painted. But is it better than the small attractive low-relief mixed media construction? At some point, with the sheer variety of work, the standards for critiquing begin to break down.
That said, I imagine that most jurors would have accepted 90% of the 97 works I accepted and would have followed their own preferences on about 10% of the submitted work. Overall, this would not change the exhibit much. I would argue the opposite as well, other jurors would have rejected 90% of the same 564 artworks that I rejected. No matter what you thought of the selected exhibit, there are at least 500 pieces that are not as good as the ones in the exhibit.
I will cop to entering two artworks because, while slogging through all of these entries, I came across ones that made me laugh. They may not have been the best paintings, but they did something many of the works did not - they made me react. That is worth something in my book.
The Exhibit is Not As Good as It Used to Be
This is an interesting complaint. I think this is sometimes the result of Minnesota having such a vibrant and active arts community throughout the state. First off, this is not a biennial. The State Fair Art Exhibit is not meant to represent the best artists in the state. Several institutions have tried to implement a biennial, but nothing has ever stuck. As a result, some people have come to think of the State Fair Art Exhibit as a best-of-the-state exhibit. The actual theme of the exhibit is a little less grandiose. It is, essentially, I live in Minnesota.
I have been around the Twin Cities art scene for quite a long time as an artist and as an art administrator. I know a lot of artists. I mean, I know a LOT of artists. Yet, in my category, out of 661 artists I was surprised I only knew about ten of them. No doubt, there are several very good artists in the exhibit, but there are many artists of note who did not even enter. Even if all 2,207 artists submitting in all eight categories were active artists, that is not even close to a majority of the artists in Minnesota.
Why don't more artists apply to the exhibit? Many are busy - very busy. Artists who are at the top of their game have found a niche and are busy working that niche to make a living. Unfortunately, the state fair exhibit is not necessarily going to help their career and because of a lack of time they do not enter. There are a lot of artists who are also tired of competing. We compete for shows, grants, and recognition and it gets tiring. I am sure many artists are like me - some years they enter and some years they don't. Just as often as I hear the phrase "it's not as good as other years," I hear the question "did the deadline already pass?" I assume, like most things, there are cycles to the State Fair Art Exhibit when there are more good works submitted and then some years when that's not the case. Perhaps we are in a period where a new group of artists are needing to discover the opportunity and take some ownership in it.
When Does Juror Bias Enter the Equation?
If there is any juror bias that truly impacts the exhibit it is in the awarding of recognition. It was in the 1st through 4th Place and Honorable Mention assignations that I noticed my preferences. It was not intentional, but as I narrowed the field to the artworks that I felt best expressed themselves, I found several smaller mixed media works. My criteria statement that I had to submit was: I look for ability and an understanding of one's materials and how they can implicitly express the subject. Though there was good painting technique in some larger realistically painted works, I found a much tighter understanding of materials and there qualities in smaller assembled pieces that combined painting and a variety of materials. I like a big realistic painting as much as anyone, but as a large-scale painter myself, I am not impressed simply because it is big.
If Nothing is Wrong, What is the Problem?
Maybe the real problem is just perspective. Most artists I have known that enter the exhibit do it because of pride in their state and because of pride in the larger arts community. They, and much of the audience, enjoy the fact that the exhibit includes a beautifully rendered painting of two old friends next to a painting of a crazy looking cat with a party hat. They enjoy seeing the photos, the textiles and the prints next to the sculptures, paintings and ceramics. Most of the artists submit to the exhibit to feel a part of the bigger community, not to sell or to win awards. If that does happen it is icing on the cake. Perhaps, displaying the best and brightest of Minnesota's art scene is not the most important role of the exhibit. The best and highest outcome might just be having an exhibit that represents all kinds of Minnesotan artists seen by all kinds of Minnesotans in a manner that weaves us together as a larger community.